Industry is Growing
Posted by Steve Parkes on 2014-06-03 at 11:47 AM
The latest press release from the Brewers Association announces that the craft beer segment of the US beer market grew by 18% last year. Given that craft beer is now growing from such a large base, that number is astonishing. Of course there are many opinions about the future of the craft beer segment. many predict that craft beer growth is a bubble that will burst , others predict that there is no limit to the potential for growth of craft beer. Obviously the future is uncertain, but here at the American Brewers Guild we've been around for most of the history of craft beer's existence and have experienced first hand the highs and lows. We've taught classes with 6 students when the industry growth slowed down, and we've had 2 year wait lists for classes when the industry is booming. One thing remains true in good times and bad and that is that brewers always need trained, educated, competent staff to run their operations. A brewing system costs too much money to hand the keys over to someone who has only ever brewed in their garage, and the industry is now 30 years old and knows a bad beer when it see's one. We must keep our production standard at the highest level if we're bot going to screw up this magnificent industry we've created.
Return to the American Brewers Guild Home.

The Brewer's Log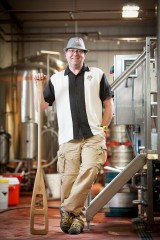 Steve Parkes is the head instructor of the guild, and a respected industry veteran. Educated at Heriot-Watt University in Scotland, and with stops at Humboldt Brewing and brewmaster at Otter Creek/Wolaver's, Steve is a respected leader in the craft brewing industry. This blog contains his musings and observations about beer and more.