U.S. Brewery count reaches an all time high
Posted by Steve Parkes on 2015-12-02 at 12:38 PM
There are now more breweries operating in the United States than at any time in our history. The Brewers Association just released their annual state of beer report and among the highlights are
Brewery openings now exceed two a day.
Fifteen states are now home to more than 100 breweries: California, Washington, Colorado, Oregon, Michigan, New York, Pennsylvania, Illinois, Texas, Ohio, Florida, Virginia, North Carolina, Wisconsin, Indiana.
IPA remained the top style sold by independent craft brewers, and continues to grow faster than the overall craft category.
Data shows that "locally made" is important to over half of craft beer buyers.
Similarly, knowing that the beer is made by a small and independent brewery is important to a majority of craft drinkers in their purchase decision.
So there's never been a better time to train to be a brewer or to get your brewery up and running.
Return to the American Brewers Guild Home.

The Brewer's Log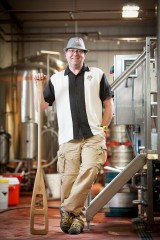 Steve Parkes is the head instructor of the guild, and a respected industry veteran. Educated at Heriot-Watt University in Scotland, and with stops at Humboldt Brewing and brewmaster at Otter Creek/Wolaver's, Steve is a respected leader in the craft brewing industry. This blog contains his musings and observations about beer and more.