The Glen Hay Falconer Foundation Brewing Scholarship
About the Brewing Scholarship
In collaboration with the American Brewers Guild, the Glen Hay Falconer Foundation is offering a full-tuition scholarship to the Intensive Brewing Science & Engineering course that begins on January 25, 2016 and runs through July 1, 2016.
The Intensive Brewing Science & Engineering ("IBS&E") course is a 22-week distance education program with a final week of residential instruction in Middlebury, Vermont. The IBS&E course is specifically designed for professional and aspiring craft brewers seeking formal training in brewing science. The program provides a comprehensive learning experience that focuses on the technical, scientific, and operational matters and issues that brewers face in a craft brewing environment.
The scholarship is open to professional brewers and homebrewers from the states of Washington, Oregon, Alaska, Hawaii, and California's northern geographic region (San Francisco Bay/Monterey Bay areas and north). The scholarship includes a $1,000 stipend to help offset travel and lodging expenses for the final onsite week in Middlebury, Vermont.
The selection committee is comprised of professional craft brewers and brewing industry experts. The full application must be received no later than November 9, 2015.

About the Glen Hay Falconer Foundation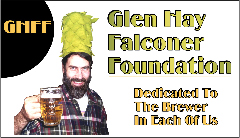 The Glen Hay Falconer Foundation is a non-profit organization created to commemorate and celebrate the life, interests, and good works of a well-loved and leading Northwest brewer. The mission of the Foundation is to contribute to the Northwest craft brewing community by providing opportunities for professional and aspiring brewers to further their knowledge and expertise. Since 2004, the Foundation has granted a total of 28 brewing education scholarships to brewers from throughout the Pacific Northwest.
The Foundation receives funding a variety of sources including the annual Sasquatch Brew Fest that takes place in Eugene, Oregon, by donations from participating pubs in the Sasquatch Legacy Project where scholarship recipients join together each year to brew a specially crafted beer, and by private donations and fund raisers.
The Foundation is a beneficiary of Yakima Chief-Hopunion's Falconer's Flight® initiative. Falconer's Flight® is an exclusive proprietary blend created to honor and support the legacy of Glen Hay Falconer and many notable breweries have developed beer around the Falconer Flight® hop.
The Foundation also produces the Sasquatch BrewAm golf tournament pairing all levels of golfers and beer lovers with celebrity brewers.
For more information on the Foundation and its activities, please visit our website at http://www.glenfalconerfoundation.org and follow us on Facebook.

About Glen Hay Falconer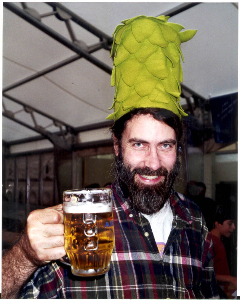 Passion, dedication, and creativity defined Glen Falconer's beers and his entire approach to life.
Glen began his brewing career as an avid homebrewer and dedicated member of the Cascade Brewers Society, a clan of skilled homebrewers based in the Eugene/Springfield, Oregon area. As a professional brewer, Glen continued to support the craft of homebrewing by providing access to brewing ingredients, procedures and unique beer recipes.
In 1990, Glen followed his dream and pursued a professional brewing career, beginning at Steelhead Brewery in Eugene. Glen continued to refine his skills at the renowned Rogue Ales in Newport, Oregon, working side-by-side with his close friend and mentor John Maier.
In 1996, Glen became head brewer at the Wild Duck Brewery in Eugene, providing six regular beers on tap as well as a wide variety of specialty ales and lagers each season. Glen continued as head brewer at the Wild Duck until his untimely death in 2002.
Enlarging on the tradition of brewing, laughing heartily and embracing adventure fully represented Glen's life. While Glen won numerous professional craft brewing prizes and accolades, perhaps his finest accomplishment was the back-to-back Gold Medals received posthumously for his Auld Gnarly Head Barley Wine at the 2002 and 2003 Great American Beer Festival.

Application for Glen Hay Falconer Foundation Brewing Scholarships
For your convenience, the application is located here
Candidates applying for the Glen Hay Falconer Foundation Brewing Scholarship must include a completed application and supporting information as described on the Admissions page. Note that the application fee is waived for scholarship applicants.
In addition to completing the Standard IBS&E Application Form, applicants must also address the two essay questions below ­and provide two letters of recommendation, with one letter being from a professional brewer.
1) Relate how your accomplishments have demonstrated your dedication to the art of craft brewing.
2) Discuss how you will help further the goals of the Glen Hay Falconer Foundation.
Note the content of your application, quality of your essay responses, and letters of recommendation are very important, as this information is all the Selection Committee has to evaluate your candidacy.
The complete application package including essay questions and letters of recommendation must be sent for arrival by November 9, 2015 to:
PLEASE MAIL APPLICATIONS TO:
American Brewers Guild Diploma Program
1001 Maple Street
Salisbury, VT 05769
PLEASE EMAIL APPLICATIONS TO:
Please save as 1 .pdf or Word doc for the attachment please.
All applicants will be contacted directly by the Glen Hay Falconer Foundation by December 14, 2015.